3D Product-Presentation
Interactive Real-Time-Rendering-Animation with KeyShot.
3D product presentations bring a product to life on every website and generate additional interest. This makes the website or the trade fair appearance much more attractive and popular because the visitor can become active himself!
The viewer can configure in the Keyshot real-time rendering animation and immediately see the result.
The following Keyshot 3D product presentations examples from the designer Thomas Clever show this impressively.
---
Here you can put together your favorite spider.
Choose between a variety of colors, rims, and tail lights.
Touching the blue buttons on the left you can toggle between the different options to show
Open spider product presentation in a large window
---
Find out what is inside this futuristic RV.
Drag with the cursor towards the right – and backwards to open up the vehicle.
Open mobile home product presentation in a large window
---
What is your favorite style?
Toggle between the different options with the blue menu on the lower left hand side.
Open helmet product presentation in a large window
---
Designer Thomas Clever
Main competences are:
- Concept Design (Transportation and Product)
- Digital Sculpturing with PTC Creo Parametric, ISDX and Freestyle
- Certified Trainer for Creo Parametric
- Visualization with Keyshot
- Sketching and Photo Retouching with Photoshop
- Freehand Sketches
- Modeling Supervision - Car Body Design
At the Opel Design Center in Rüsselsheim, Thomas Clever started his career as a designer for special projects with the design of the Opel Corsa, which was also successful thanks to its shape. The next highlight was participation in concept vehicles such as the 1992 Opel Twin, later also in the Advanced Design Studio Bertone near Turin. He was one of the first "pioneers" in the design center, who also implemented 3-dimensional designs virtually and presented both hand and computer-aided design techniques at several automotive trade fairs. Even after moving to the small design studio Protoscar in Ticino, he continued to work on special orders - mostly digital - for the Opel Design Center.
The design department of Porsche AG in Weissach called him several times as a specialist for freeform surface programs from PTC. It got really creative in 2000 with the development of the shape of many Rinspeed concept vehicles including CAD modeling, each of which had its premiere at the Geneva Motor Show. Particularly spectacular is the 2004 splash, which is fast as a sports car on the road, but also as a hydrofoil in the water. The luxurious amphibious car Näder Tonic is also an interesting design by Thomas Clever.
The innovative electric sports cars Lampo2 (Premiere 2010) and Lampo3 (2011) for the Swiss company Protoscar have exciting bodies designed by him. Charging stations, color sample shapes and other product design designs have been successfully on the market for several years.
Since 2012, Thomas Clever has finally been available to a wider range of customers as a freelance designer. Since then, unusual product ideas have emerged in many areas, from the cute elephant-shaped children's tap to household items such as the "UFO" pot, dynamic shaped glasses, ergonomic porcelain coffee cups and elegant seating furniture influenced by the car design.
Portfolio Car Design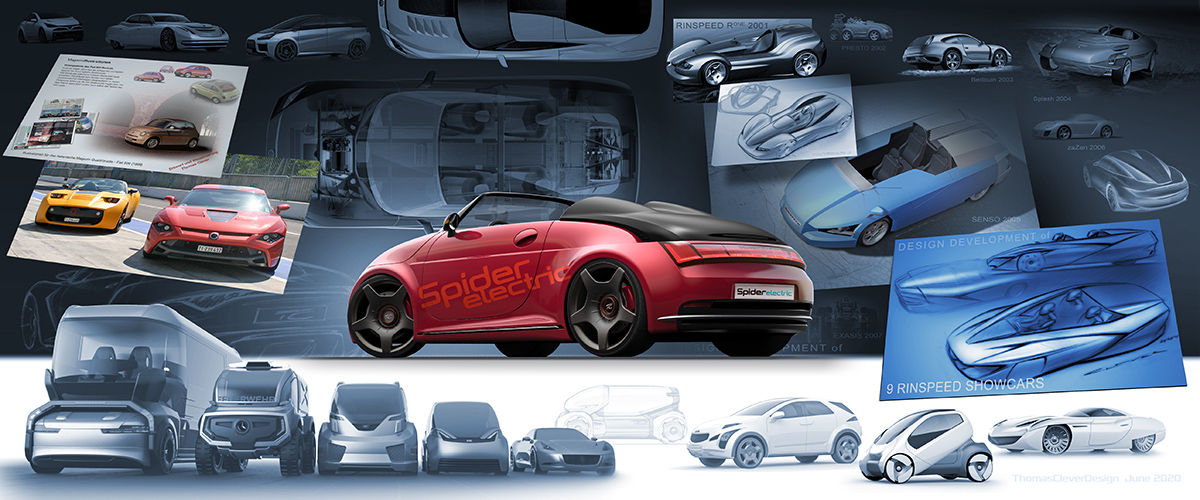 This is an overview of the car design projects of which Thomas Clever was responsible. More than half of them hit the road, like all the "Rinspeeds" or the two Protocar Lampos, both electric sports cars.
Cars designed by Thomas Clever:
Mobile-Home, Multi-Purpose Off-Road-Vehicle, Electric Van, City Commuter, Van Sketch, SUV, City-Car, Convertible Coupe, Rinspeed Concept-Cars, Protoscar Electric Sports-Cars -Lampo 2 and 3, Family-Van, High-End Limousine, Electric-Spider.
Portfolio Product Design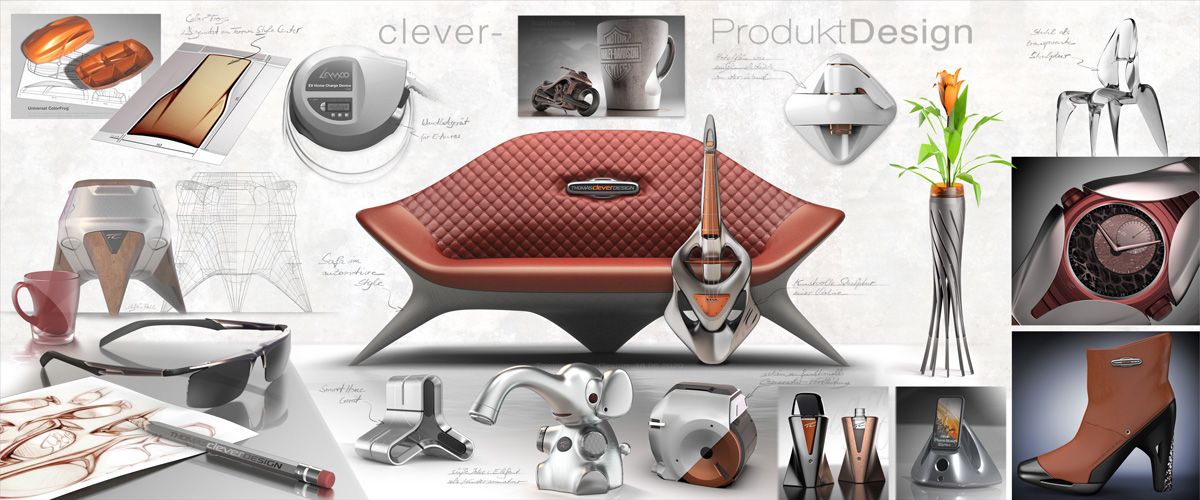 Here are some of the products Thomas Clever designed. The ColorFrogs on the upper left side are used in car maker design studios. The Coffee-Cup is hand made in Porzellan by a manufacturer in Saxonia-East-Germany. The wall charger for e-cars named sleep & charge is a product of the Protoscar SA in Southern Switzerland.
Product-Design by Thomas Clever:
ColorFrogs, Vacuum-Cleaner for Kids, Hotel-dryer, Style-Coffee-Cup, Sofa, Freestyle-Violine, Vase; Watch, Glasses, compact Smart-Home-Station, children's water tap, briefcase, Flacons, Smart-Phone-Charger-Radio-mp3-Device.
---